"
When we are honest with ourselves, we know that it is not 'Me Time' we need or a 'Girls' Night Out.' Children are not a burden to escape or endure; they are a blessing that drives us to Christ because we are incapable of parenting well without Him.
"
~ Large Family Logistics, The Art and Science of Managing the Large Family, Kim Brenneman*
The other day, Mark came home from work
not
to find apron-bedecked me putting the finishing touches on a nutritious, home-cooked, vegetarian meal in the kitchen while the children tidied the house--and yes he's lucky enough to often find just such a scene. Instead I was lying on our bed watching hulu. The kids had been bickering all day, one putting out an invitation for a bit of contention, the other quickly accepting, the next escalating the whole thing a bit more. I had been managing and reprimanding and and imploring and giving consequences all day and finally decided that if they all really wanted to gather together to snipe at each other, well then I'd go elsewhere.
I think that was the same night that Mark asked me about Family Home Evening plans and I responded with, "Oh yeah, because more family time is
just what I need
!" (This was in the privacy of our bedroom, which we use as sort of a free-speech zone.)
Hm, and come to think of it, that was the same night I delivered what I thought was a lovely little lesson on bearing testimonies, but at the end the kids had been so rotten that I told them that I didn't feel comfortable sharing my testimony with them.
Okay, so maybe Mark was justified in doing what he did next. Later that evening, he announced that he had arranged for our good friends the Flemings to come over on Thursday night. He and Steve would stay home with the kids while Lee and I would go out on the town. I guess I was feeling a little sheepish that Mark had felt the need to call in the cavalry, but Lee and I are not ones to pass on a chance for some time together, so we agreed. (And remember my
recent vow
to just take a break every once in a while?)
We had the most wonderful evening together. Lee and I talked nonstop all the way through out dinner at the
Blue Lemon
. (Topics covered included the new math core curriculum in Utah, the role of
Khan Academy
in education reform, the role of foster care in rehabilitating dysfunctional families, whether the BYU Religion Department is truly academic or primarily devotional, and ward members who make unreasonable demands for baby showers and meals.)
Then we went to
Sephora
, where I was in search for a red lipstick. After becoming BFFs with our makeup rep, I went home with
Nars Jungle Red
. What do you think? Lovely, but do I ever dare wear this in public? I'm speaking in church on Sunday and teaching Relief Society. Should I go for it? (Picture forthcoming.)
Then Lee and I walked through
Restoration Hardware
, discussing the plays with scale, the juxtapositions of rustic and high-brow, the expensive things we could hack for cheap. My very favorite thing was
this
: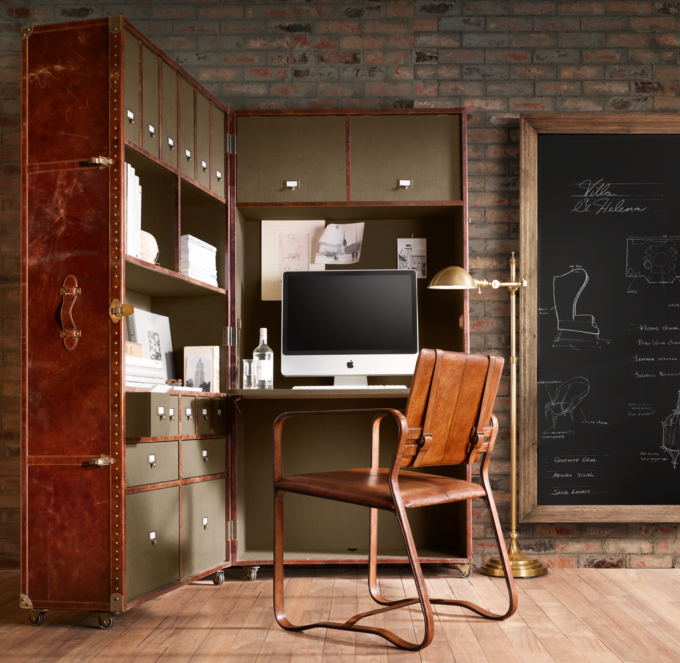 See? It's like a gigantic recreation of an old-fashioned gentleman's steamer trunk, but the little drawers and compartments are like library card catalog drawers and the whole thing is a fold-up office. I love everything about it. (And it's only $3,225!!)
It's hard to express how much Mark would
not
have enjoyed this itinerary. He doesn't really get (which is not to say that he opposes) my love for aesthetic. I came home feeling awash in new ideas and images and very refreshed indeed.
* I love this quote, and I'm enjoying this book of systems and tips for managing a large family more efficiently. But I can't get on board with the author's view of a mother's "second-in-command" relationship with her husband or her somewhat extreme view on how much a mother should "sacrifice" her "Self" to her family.